Top Features





See how Zulu can work for you

The complete DJ solution

Zulu has powerful disc jockey features in an easy-to-use interface, making mixing your favorite tunes easy, so you can broadcast your music live while applying effects on the fly.
---
Play Deck
Each deck has its own individual controls, including a timeline of the loaded song with beats highlighted to help when synchronizing the two decks.
---
Looping

Choose from multiple loop lengths and even add additional loop buttons for added flexibility.
---
Audio Effects

Each deck has its own individual effects that you can apply to the song on the fly.
---
Global Effects
You can also apply effects globally to control the overall sound coming from both decks.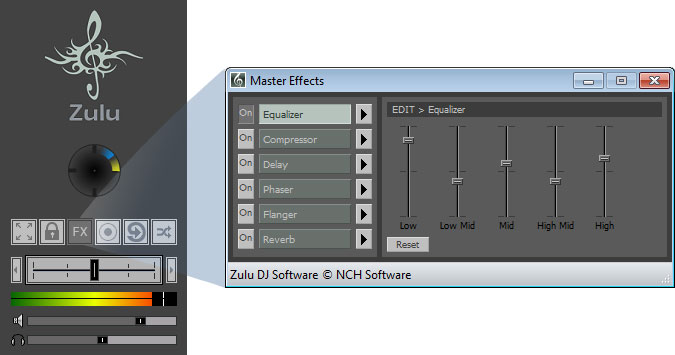 ---
Playlist
Below the two decks, the playlist shows all of the music loaded into Zulu including the song titles, artists and other song details. Songs can be easily loaded to a deck with hot keys or drag and drop onto the deck.

---
Loops and Samples
Load pre-recorded loops and samples to the sample bank. Individual sound clips can be looped and played over songs or by themselves to enhance your overall mix.

---
Like what you see?

Download Zulu here:

Zulu is a software program for experienced and novice DJs, and features cross-fading between two decks, the ability to preview a track through headphones before broadcasting live to the audience, and much more.