Zulu Windows Screenshots
Play Deck
Each deck has its own individual controls, including a timeline of the loaded song with beats highlighted to help when synchronizing the two decks.

---
Looping
Choose from multiple loop lengths and even add additional loop buttons for added flexibility.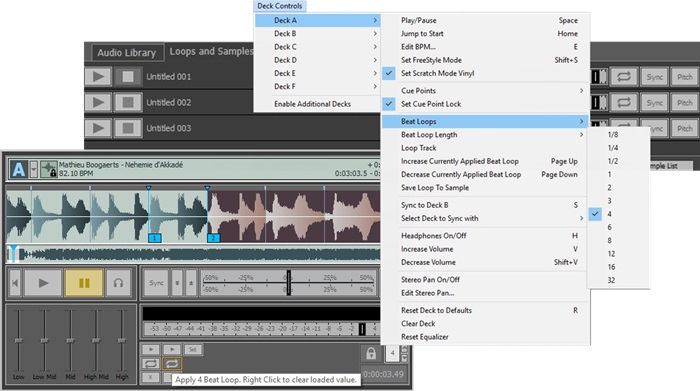 ---
Audio Effects

Each deck has its own individual effects that you can apply to the song on the fly.



---
Global Effects
You can also apply effects globally to control the overall sound coming from both decks.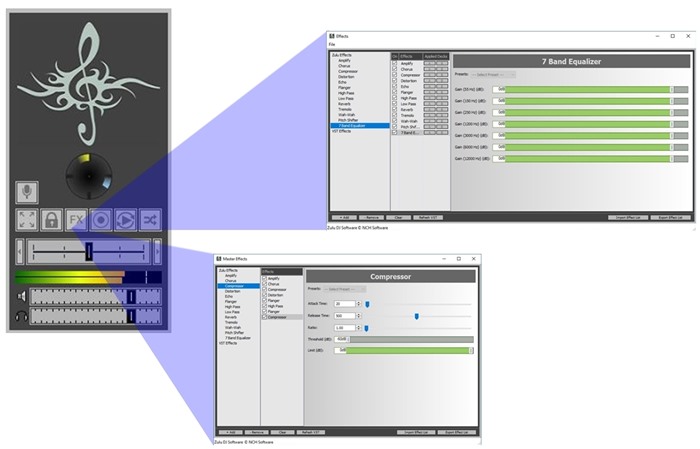 ---
Tab Views
Below decks A and B, tabs let you view your playlist, loops and samples, effects, and other decks.
Playlist Tab
The playlist shows all of the music loaded into Zulu including the song titles, artists and other song details. Songs can be easily loaded to a deck with hot keys or drag and drop onto the deck.

Loops and Samples Tab
Load pre-recorded loops and samples to the sample bank. Individual sound clips can be looped and played over songs or by themselves to enhance your overall mix.

Effects Tab
Add and adjust a variety of effects and apply them to any or all decks.

Decks Tab
The decks tab displays decks C through F. You can also access these decks in another window through the top menu, by choosing
View > Decks > Undock Decks Window.