CallURL Telephony Boards Installation Guide
Note:
These installation instructions are intended for use with Windows XP. Other versions of Windows may use different installation methods. Before adding the drivers for a CallURL board you will need to install the board into your computer. If you do not know how to do this it is recommended you hire a computer technician.

IMPORTANT: The following steps must be performed exactly in the order shown otherwise your software will not detect the card.
---
Step 1 of 6
When you start the computer for the first time after installing the board the Windows Hardware Wizard should open with the screen below. If it does not, open your control panel in the settings menu and select "add hardware".

Place the CD you received with the board into your CD drive.
Step 2 of 6
Once the CD has been detected the screen below will open. Select the drivers appropriate for your operating system, then click next.

Follow the installation instructions onscreen.
Step 3 of 6
You will now need to install the CallURL TAPI drivers. To do this close the hardware installation Window and double click the CD Drive. This should open the window below. If it does not right click the CD Drive icon, select "open" and then double click the install.exe file.

Once the screen has opened, select the TAPI drivers you want to use, and click next.
Step 4 of 6
In this screen, make sure both the Install Talk Voice and Install Easy TAPI Driver options are selected then click next.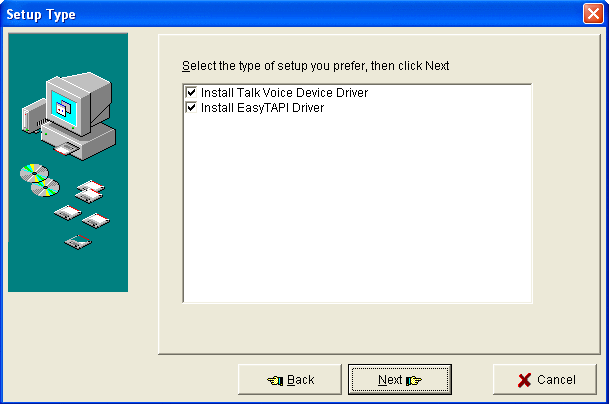 Step 5 of 6
Choose a PCI board in the board type settings then click OK.
Step 6 of 6
The CallURL Drivers should now be fully installed. Open the software you are using with the CallURL Board (such as IVM, IMS, DialDictate, or TRx), select "settings", and then choose the line/s you want to use for this software.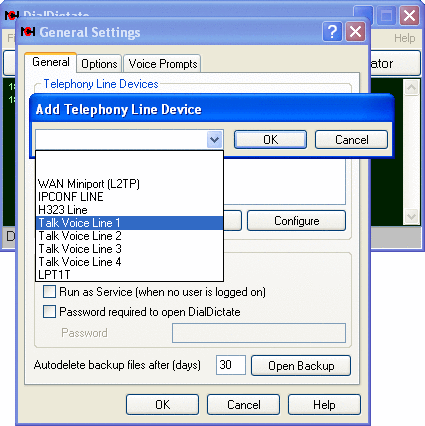 ---
Troubleshooting Problems
If the board does not work as you think it should after running these steps, please see CallURL Technical Support Instructions.