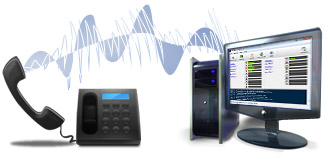 Phone Recording Software
Software to Record Telephone Calls on PC & Mac
Download software to record phone calls on your computer. NCH Software has call recording software to suit businesses, call centers or home phone call recording. Select one of the phone recorders below, download free, and be ready to start recording phone calls in just minutes.




Suitable for any recording from home to business
Record up to 64 phone lines with automatic or manual recording
Live phone monitoring for quality control in a corporate setting

Designed to record anywhere from 1 to 64 telephone lines manually or automatically. Features include signal processing for enhanced audio quality, audio compression, search, remote monitoring for quality assurance and all other features required for everything from a single line phone call recorder to a robust corporate call recording solution.

Record VoIP phone calls on demand
Suitable for home or business use
Use with any VoIP SIP gateway provider

The Express Talk softphone has many practical features designed for business users, including call recording, call conferencing, the ability to transfer calls, a push to talk intercom, do not disturb mode, multiple line configuration and more.

Manual recording of one phone line
Suitable for home or business
Records on the user's computer

A single line telephone recording program for Windows and Mac OS X. Manually record phone conversations on a phone line connected to a voice modem, call recording adapter, or professional telephony card directly at the computer where the call takes place.

Automated message recording
Voicemail based solution
Inbound or outbound calls

IVM is an interactive voice response and voicemail program that can create an automated telephone menu/auto attendant, as well as handle voicemail systems and record telephone messages.