Carousel Telephony Adapter

VoIP Base FXO Gateway Driver

This feature is now included in Axon Virtual PBX Software

Carousel is software to connect VoIP calls to ordinary telephone lines and vice versa using one of a number of professional telephony devices.

It works as a virtual FXO gateway. You install it as a service on any Windows PC. SIP protocol VoIP calls will be directed out to standard PSTN analog lines through the CAHTA, CallURL and Synway telephony boards (green line on diagram below). Likewise, calls made to a standard telephone line can be directed to an internal VoIP network configured with a virtual PBX (eg. Axon ) via a telephony device and the Carousel software (blue line on diagram below).

This is ideal for businesses that wish to take advantage of the emerging VoIP technology but still retain standard telephone line(s) for incoming and outgoing calls and where Broadband or a SIP Gateway providers are not available.

Download Now Telephony Hardware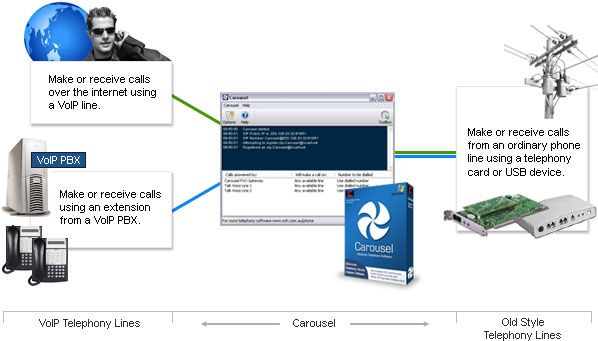 Typical Applications

To create a 1 to 12 FXO gateway to route VoIP SIP calls to ordinary phone lines.
To run a VoIP Based PBX (eg. Axon) when no SIP Gateway or Broadband provider is available. ie. Where you want to use VoIP to route calls in a office but where all external calls are still on ordinary telephone lines.
To use an existing LAN network to route calls from a Virtual PBX.

System Requirements

Uses the standard SIP protocol to connect to any VoIP based service, lines or PBX.
The number of simultaneous calls are limited only by your hardware (it is unlimited in the software).
Runs as a background service on any Windows 2000/XP/2003/Vista computer. No special server or server software is needed.
Supports both PCI Telephony Cards and USB Telephony Devices to connect to real phone lines.
Installs in just minutes.
Download Carousel Telephony Adapter Software
Carousel can be downloaded by clicking on the following link:
More Information...
For more information see: