NCH SOFTWARE PTY LTD
About NCH SOFTWARE PTY LTD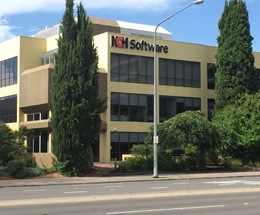 NCH SOFTWARE PTY LTD is a leader in business audio technology. Since 1993 our software development team has released more than 80 easy-to-use software applications for Windows, Mac and mobile devices. Each software program is designed to fulfill a specific need, and many programs are considered leaders in their markets and have been awarded for excellence.

Our software categories include applications for audio, video, business, dictation and other software utilities. By offering such a wide breadth of software applications at affordable prices, NCH Software is where users turn for reliable software applications for any need. NCH Software continues to develop new programs while maintaining focus on developing easy-to-use, simple software solutions.

Most Popular Programs
WavePad Sound Editor

WavePad is NCH's flagship product and one of our most successful applications. This powerful audio editing software features all the editing, advanced audio effects and tools a professional would expect. What makes WavePad so popular is that all of these powerful features are in a very easy-to-use interface. WavePad makes audio editing easy.

VideoPad Video Editor Software

Like WavePad, VideoPad contains powerful editing features in an easy-to-use, intuitive interface so anyone can create professional looking videos in just minutes. There isn't a steep learning curve, but advanced features are still at your fingertips. Also, the large range of supported formats and exporting presets make saving, burning, and sharing your movies easy.

Prism Video Converter Software

Prism Video Converter is a powerful, stable and comprehensive multi-format converter that can convert videos into many different formats. You will never have trouble opening or watching a video file again with Prism on hand to easily convert or compress any video file that comes your way.

Switch Audio File Converter

Switch Sound File Converter is the most comprehensive and stable sound converter program around, supporting over 40 file formats. With Switch you can convert audio into different formats, compress for storage, create ringtones, extract audio from video files and more.

Express Scribe Transcription Software

Express Scribe is extremely well known and respected in the transcription community. With Express Scribe you can slow down and control the playback of audio or video files with hotkeys or a foot pedal, which can drastically improve turnaround time for transcribing files.

Express Invoice Invoicing Software

Express Invoice is ideal for small business, handling all business billing and invoicing needs. Express Invoice can grow with your business, with easy options for upgrading to Express Accounts or updating inventory levels in Inventoria so a business can design a complete software solution with exactly the features they need.