Stamp ID3 Tag Editor
Edit Mp3, WAV or OGG Tags and Update Song Metadata

Edit Existing MetadataFix incorrect information

Add New TagsOrganize your digital collection

Edit File GroupsAssign common tags at one time

Supported FormatsEdit WAV, MP3 and OGG tags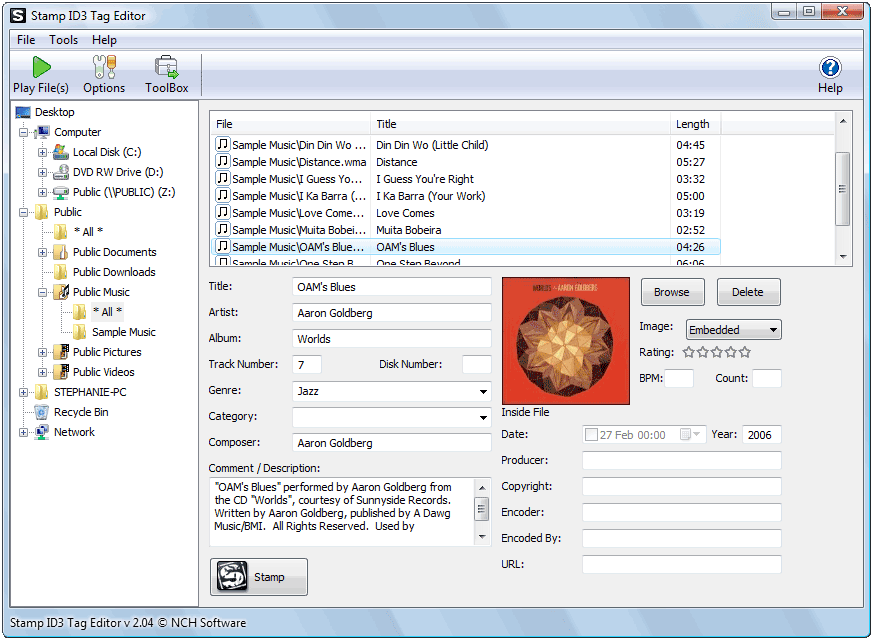 Stamp ID3 tag editing software is an audio tag editor program for Windows.
Add tags including genre, artist and year to your music
Organize your music collection using ID3 tag metadata
Small download under 500k installs in seconds
Use Stamp to organize all the music files you have gathered over the years. Editing the tags enables your Mp3 player to show details such as artist and title, or sort by genre.
Stamp mp3 tag editor is designed to be easy and intuitive to use. Just add the files you want to edit to the list, enter the new information, and then click the stamp button.
Get it Free
. A free version of
Stamp
is available for non-commercial use only. If you will be using
Stamp
at home you can
download the free version here
.
Tag Editor Features
Add or edit tag metadata, including genre, title, artist, album, year, track number and more
Add your own comments to a music file
Edit wav, mp3 and ogg music file metadata
Play files before editing file information
Supports multiple file editing
Clear all tag information on multiple files in one step
Easy and intuitive to use
Edited ID3 tags are compatible with iPods, iPhones and Android devices
View the music metadata in iTunes, Google Play or audio editors, such as WavePad
Integrates with Switch Audio Format Converter to normalize and convert over 40 formats to mp3 before adding tag information
Typical Applications
Organize tracks in software applications such as WavePad Audio Editor, WinAmp, iTunes and more
Display track information on portable devices such as iPods, PSP and phones
Set a genre for multiple tracks at one time
Apply individual ID3 tags to audio files converted from vinyl LPs & cassette tapes
System Requirements
Download Stamp ID3 Tag Editing