TempoPerfect Metronome Software
Download free metronome software for musicians

Create Beat PatternsHighly accurate beat simulation

Visual Beat IndicatorHelpful visual cue

Preset TemposLargo, Adagio and more

Supported PlatformsWindows, Mac, Android & iOS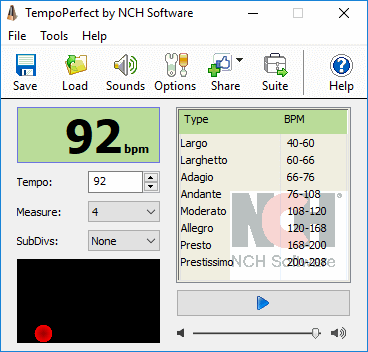 TempoPerfect is a free software metronome. Unlike mechanical metronomes, our software metronome provides a clear and precise beat that won't wind down, making it an essential tool for any musician.
Create accurate beat patterns for simple or complex rhythms
Subdivide beats to hear difficult patterns, such as triplets
Accent the first beat in a measure
TempoPerfect also includes a tempo guide within the program which is a helpful resource for remembering the BPM for particular speed markings (e.g., Allegro).
Metronome Software Features

Highly accurate beat simulation
Will not wind down like mechanical metronomes
Subdivide beats into accented beats and regular beats to emphasize different patterns
Visual beat indicator bar provides a helpful visual cue
BPM Tempo Guide chart for each speed of music
(e.g., Allegro = 120 - 168)
Easy-to-use interface
Completely free download online
Use on your computer or as a metronome app on your mobile device
Preset tempos include Largo, Allegro, Presto and more
System Requirements

TempoPerfect Metronome Software for Musicians

Related Software for Musicians

For more software see our Software for Musicians page.