Pocket Dictate Mobile Dictation Recorder
Dictate and send recordings from Android or iPhone
Pocket Dictate is a voice recorder for iPhone. Dictate directly on your phone, then tap send and the recorded dictation will be compressed, encrypted and sent to your typist by email automatically.
Professional and portable dictation recording
Record and send dictation audio files instantly
HIPAA compliant secure encryption
The Pocket Dictate dictation app is designed to have all the features you need in an easy to use interface, closely mimicking older, more traditional dictation recorders. Pocket Dictate will quickly replace your old dictaphone and improve the turnaround on transcription by getting dictations to your typist faster.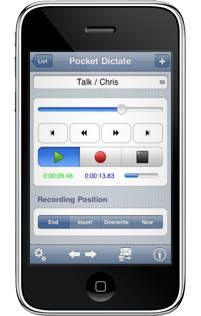 Pocket Dictate is for your mobile device, however Express Dictate is also available for Mac and Windows desktop computers.
Mobile Dictation App Features
Record and play back dictation on your iPhone or Android device
Edit, insert or overwrite recorded dictation audio
Optional voice activated recording records only while you are speaking
Automatic compression of recorded audio files
Encryption of recordings prior to transmission to comply with patient or client confidentiality requirements
Sends recording in compressed wave (wav) or dictation (dct) file formats
Transcribe dictation files with Express Scribe foot pedal controlled transcriber
Download Pocket Dictate Voice Recorder