PitchPerfect Guitar Tuner
Easy Guitar Tuning Software for Musicians

Fastest Guitar TunerTune strings quickly

Simple & IntuitiveEasy-to-use interface

Automatic Note DetectionAutomatically detect the note

Any Sound Input DeviceMicrophone or line in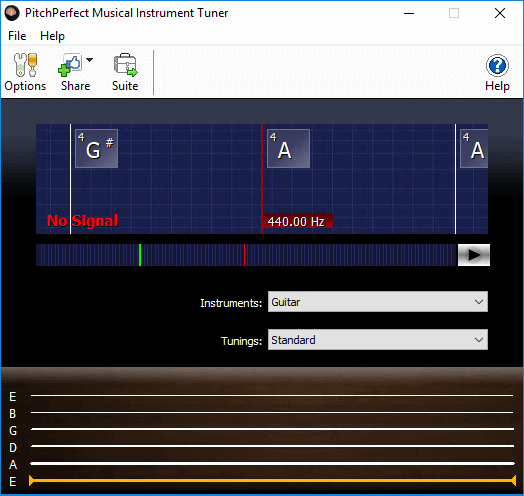 PitchPerfect is a free guitar tuner that eliminates the need of tuning a guitar conventionally and will automatically detect the note you are playing.
Accurate, professional guitar tuner
Automatic note detection
Easy to use interface
Tune your strings quickly and easily to any note you want! No longer are you constrained by standard tunings, PitchPerfect includes more than 50 alternative tunings.
PitchPerfect tuning software is ideal for guitar players and other musicians, greatly improving the quality of your guitar's sound.
We make PitchPerfect free because we know that you will love it so much that you will try our other audio software. Combine it with Switch Audio File Converter Software (to convert your audio formats into Mp3 and back), WavePad Audio Editing Software and MixPad Multitrack Audio Mixer and you will have a complete audio software suite.
Tuning Features

Tune to absolutely any note you want
None of the constraints of conventional tuning patterns
Highly accurate pitch detection
Easy-to-use interface
Tune your guitar through any available sound input device including microphone or line in
Excellent tool for checking fret board intonation